Parrish Ford Extended Service Plans (ESPs)
At Parrish Ford, we only sell extended warranties that are 100% back by Ford Motor Company. That's why we only sell Ford's ESP. It ensures that your repairs are made with genuine Ford parts by factory trained technicians. It also ensures that if you are not able to make it to Parrish Ford for your service work, you have coverage at any of the Ford and Lincoln dealers in the U.S. and Canada.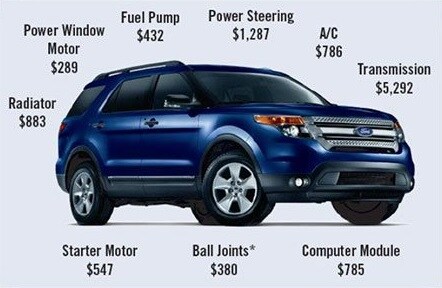 An ESP from Parrish Ford will provide you peace of mind by limiting your out-of- pocket expenses on covered repairs to that of your deductible. The price for parts and labor to repair many major components can be significant. One repair bill can easily exceed the cost of your ESP coverage. Therefore, coverage like this can quickly pay for itself. Please review the diagram on this page showing the estimated expenses for a variety of repairs. With the right Extended Service Plan from Parrish Ford tailored to your vehicle and driving habits, you don't need to worry. You're covered!